Key Takeaways
Pet brand mascots have been part of our culture for many years.
Examples are Bullseye the Target Terrier, Zynga the Bulldog, and the greyhound for Greyhound Lines Bus Company.
Bud Light, Taco, Bell, Hello Kitty, and RCA have also used pets as their brand mascot.
Pets are used as mascots because of the pet-human connection and to stimulate true emotion.
From Greyhound's greyhound to MetLife's Snoopy, pets as brand mascots have been a fixture of our culture for decades. Brand strategists continue to tap into the power of pets because they connect so naturally to human emotion through good storytelling — and good storytelling often translates into great branding, says Christian Turner, group director of Naming at global strategic branding firm Siegel+Gale. "Pets are universal, beyond any social or economic barrier," Turner says. "We connect to our pets, see ourselves in our pets and then see ourselves in the way other feel about their pets. It's a simple, genuine, true emotion."
Here's a look at some of the Most Valuable Pets (MVPs) in the world of corporate branding, past and present:
Bullseye, the Target Terrier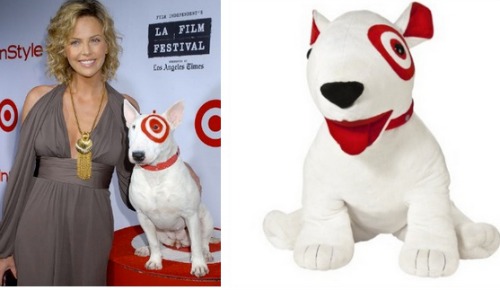 Since 1999, Target has been employing the cuteness of an English Bull Terrier to win over their customers – and then some. Known to the public as Bullseye, there's little the public actually knows about Target's top dog – not even gender. It's worth noting that the red-and-white paint around Bullseye's eye is an American Humane Association-approved vegetable-based paint created to enhance the dog's skin and fur.
Zynga the Bulldog
Zynga CEO, Mark Pincus, looked to his white American bulldog (named Zinga) for the inspiration behind not only the company name but the logo as well. Terence Fung, Head of Corporate Development at Zynga, describes how the company dog mascot represents their brand, "We're trying to create a dog-powered network – when you see the dog on Facebook or mobile, you equate it with fun. We're working with independent developers to bring innovative things into our business."
The Greyhound Greyhound
The Greyhound Lines Bus Company has used the greyhound symbol since the 1920's. In order to maintain a competitive edge in the 1950's, when private car ownership upped competition for passengers, Grey Advertising (the company's ad agency at the time), developed a marketing campaign to promote the speed, trust and agility associated with the breed as a reflection of their services.
Weego, the Bud Light Rescue Mutt
Bud Light threw a touchdown in the fourth quarter of the 2012 Super Bowl by airing a commercial featuring Weego, a rescue mutt and successor to the late Spuds Mackenzie (their late 80's bull terrier mascot). The commercial turned out to be particularly memorable not only because it differentiated itself from other racy game day commercials, but also because it featured an adorable, humorous and loyal pet. In their "Here We Go" campaign, Weego (as in "here Weego") hears his name called and then fetches beer for partygoers as they arrive.
Gidget, the Taco Bell Chihuahua
Since the Chihuahua icon Gidget first appeared in a 1997 campaign, consumers have been interchangeably identifying Chihuahuas with Taco Bell and Taco Bell with Chihuahuas. The cute face and contagious pop-culture catchphrase supplied the humor and cute factor that became forever ingrained in pop culture. The imagery has been so pervasive that a Chihuahua was recently used in a McDonald's campaign to reference the taco chain.
Hello Kitty, the Sanrio Icon
Hello Kitty is perhaps one of the most successful brands of all time, not to mention a global marketing phenomenon. In the early 1960's, the founder of the Japanese company Sanrio experimented with his sandal manufacturing business and found that sandals with "cute" designs outsold any other product. Once the Hello Kitty design was added to the product line, the company saw sales increase seven-fold over 4 years. Nearly 40 years later, Hello Kitty appears on over 50,000 products and was ranked third in 2002 for the most recognizable brand in Asia.
Nipper, the RCA Pup
Nipper the RCA dog, with his head cocked to the side listening curiously to a phonograph, is an American brand icon. Nipper was a faithful companion to his owner – so much so that his owner's brother, Francis Barraud, filed an application to copyright his painting of the dog, hoping that Edison-Bell Company would adopt it as their trademark. Turned down by Edison-Bell because "dogs don't listen to phonographs," Barraud repurposed the painting, replacing the phonograph with a brass horn and presenting it to the Gramophone Company Ltd. of London. Manager William Barry Owen agreed to buy the painting as the company trademark providing Barraud swapped out the phonograph for a Berliner disc gramophone.