Key Takeaways
Turkey is a lean source of protein that many dogs love.
Turkey is a common ingredient in homemade dog food.
Always check with your vet before feeding your pup homemade dog food.
Here are some homemade dog food recipes with turkey.
The rules for pups noshing on turkey aren't too terribly strict – other than not feeding dogs fatty meat and of course, avoiding the bones! Otherwise, turkey is a lean protein that dogs simply love. While pet parents get more conscious about human-grade food for dogs, you may want to incorporate turkey meat into some homemade dog food.
Why Homemade?
Pet parents of different dog breeds can agree: commercial dog foods have been problematic in the past, and with recurring recalls, some store-bought brands can be downright dangerous or unhealthy because of three things:
Through high heat processing, commercial dog food can be devoid of any good nutrition. The high temperatures can destroy vitamins, antioxidants, and even break down proteins.
Commercial dog food doesn't have regulations that make it "human-grade," so hooves, feathers and other by-products will be used in the food, and they can be obtained through questionable methods of death. It's reported that some animals who died from illness or disease can be used in dog food.
Additives and Preservatives
The ingredient panel on a can of commercial dog food is pretty scary – so many extra ingredients that you can't recognize, much less pronounce. They can be hard on your pup's body, but long-term studies mirror those of humans: all those fillers and preservatives are not good for Spot's heart, kidneys or liver.
How Do I Know How to Make It Healthy?
First, check with your vet. Tell him/her what your goals are with your dog's nutrition and why you want to start making your own dog food. Then, do a little research on how to effectively feed your dog a nutritionally sound meal. Our friends at Canine Journal have a great guide to cooking up your own dog food, including the following nutritional guidelines:
40% Protein – animal meat, seafood, eggs or dairy
10% Carbohydrates – grains and beans
50% Vegetables
Fat – from oil or meat
Calcium – crushed or powdered egg shells; a supplement
Fatty acids – cooked egg yolks, oatmeal, plant oils and other foods
Got Any Recipes to Try?
Yeah, we do!
Damn Delicious' DIY Homemade Dog Food uses ground turkey as well as some light grains and a lot of fresh veggies like spinach!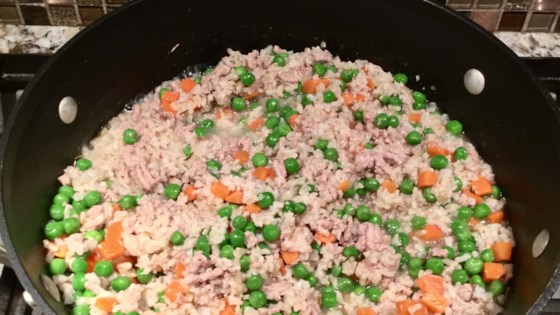 This quick and easy "Homemade Dog Food" recipe on AllRecipe takes a spin on turkey and rice and adds some frozen veggies for convenience.
A Fork's Tale has an even easier hack: throw it in the crockpot.
And with Ollie launching a new turkey recipe, if you don't want to cook your own dog food, know that human-grade turkey treats are just a delivery away.
If you make your dog's food, you probably would be interested in pet health insurance. Find out how you can keep your pets healthy by having access to the latest and greatest vet treatments. Start by getting a free quote.