We've partnered with Pawsitive Alliance for the #WhyNotMePets campaign to give difficult-to-home pets an extra paw up. These lovable pets are ready to find their forever homes.
"Minnie is a love bug in fairly good health for her age. She is a purring machine and would love a comfortable, relaxed home."
MEET MINNIE.
Senior cat Minnie, short for Minerva (yep, like McGonagall), considers herself recently retired but still youthful at the age of 15. She loves naps, relaxing in the sun, and living the life of feline luxury.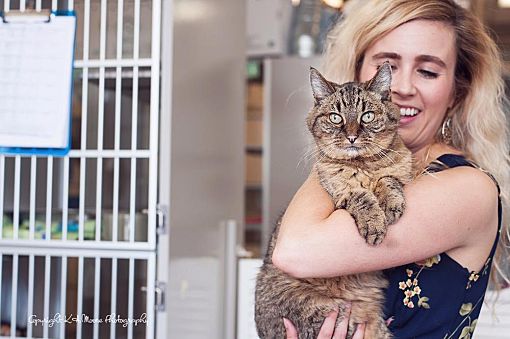 She's a stealthy girl, although her former foster home did notice that her toys mysteriously relocate themselves during the night. It has yet to be discovered if she is graciously organizing the house, or having a lively party.
Minnie is looking for a family who's happy to help her stay healthy and vivacious, as she needs a bit of extra care for her kidneys and thyroid (mostly she just needs lots of fluids and some daily medication). She returns the extra love and care with her musical purring! Available at Seattle Area Feline Rescue, the team there would be happy to discuss Minnie's needs, and set a time for you to meet her.
The rescue is not sure how Minnie would do with kids, a dog or another cat, but the organization would be happy to determine possible adopter's situations individually and help find a good fit. From Q13:

Minnie has been fully vetted, microchipped and spayed. Contact Seattle Area Feline Rescue in Shoreline, WA if you'd like to meet her (open Fridays, Saturdays and Sundays from 12 p.m. until 7 p.m.). Or send an email to adoptions@seattleareafelinerescue.org.
Every Wednesday, Healthy Paws will highlight a new pet from Pawsitive Alliance's #WhyNotMePets campaign. Visit the #WhyNotMePets page for a list of adoptable dogs and cats.