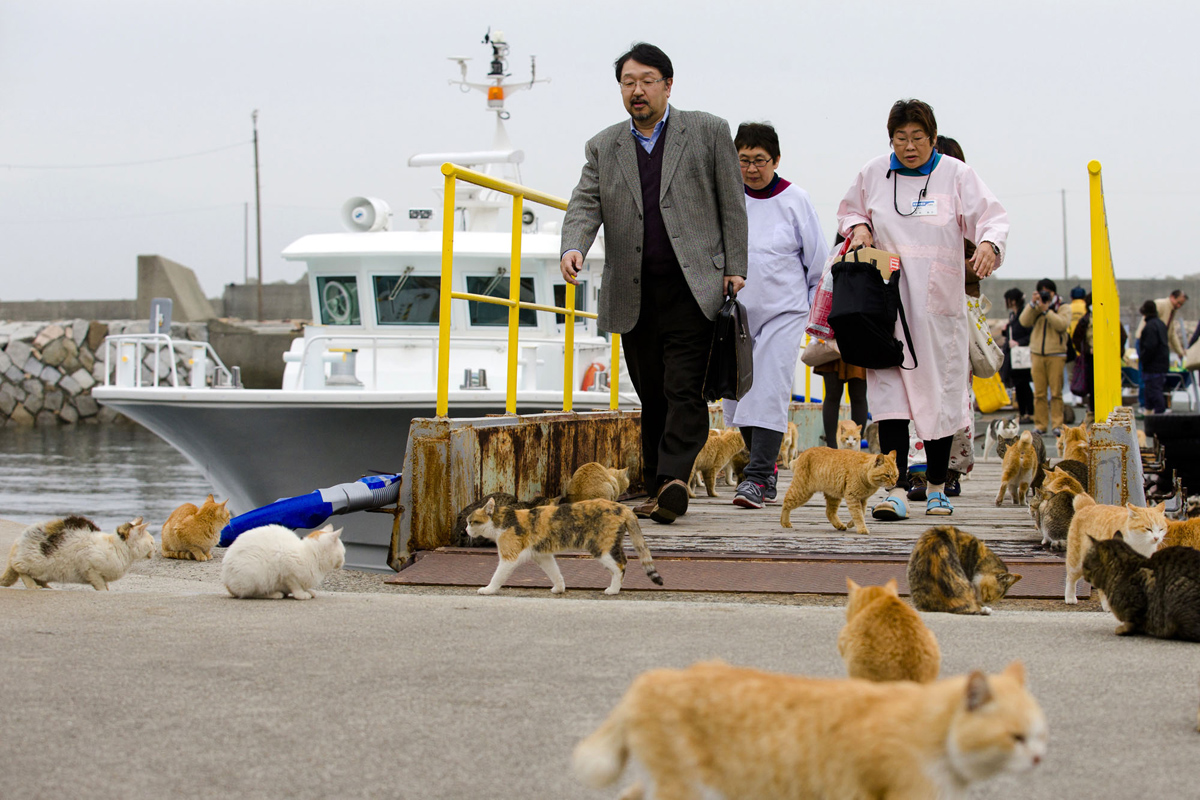 Home to more than 120 feral cats, Aoshima Island in southern Japan has found itself a tourist destination in the past few years. As the internet fell in love with images of cats roaming freely – outnumbering the humans six to one – vacationers followed suit; the ferry that could carry only 34 visitors a day was replaced with a larger vessel to accommodate more cat-loving tourists.
"Cat Island," as the locals call it, is actually one of about a dozen "cat islands" around Japan (cat lovers will be excited about this list of popular cat islands). Like Aoshima, cats were first introduced by fishermen, who needed the furry predators in order to protect their silkworms from hungry mice, as well as keep mice off the boats. Adding to the magic of the island, Aoshima also has what residents and tourists call a  "cat witch" – a local who feeds lots of the kitties. They have been known to eat rice balls, energy bars, potatoes or any tourist's lunch they can scavenge.
Population explosion ensued about a decade ago as the human residents declined in number and stopped actively preventing cat breeding. Aoshima was once home to 900 people in 1945; today there are roughly 22 elderly residents and only about 10 cats are neutered. Dogs are banned from Aoshima, and in the absence of any other natural predators, it's a cat party, 24/7. The islanders aren't completely thrilled by all the attention, either, and say that they're more than a little overwhelmed by the strain of visitors to a place without restaurants or shops.
While many publications mention that vets pop by occasionally to check on cats, the feral felines are left to their own devices much of the time, not neutered or spayed, and can suffer from unchecked illnesses. For an advocate's perspective, Kitten Lady has written a blog and filmed the below video to shed some light on what might be a serious problem for the welfare of these kitties and a possible trap-neuter program to help:
For more information and images, check out the photo-essay A Visit to Aoshima, A Japanese 'Cat Island' from the Atlantic.
Are you a cat lover? Keep your own fabulous feline happy and healthy by taking them to the vet regularly, and enrolling in cat insurance for unexpected accidents and illnesses. Start by getting a free quote.